Current Music:

Feelin Alright-Joe Cocker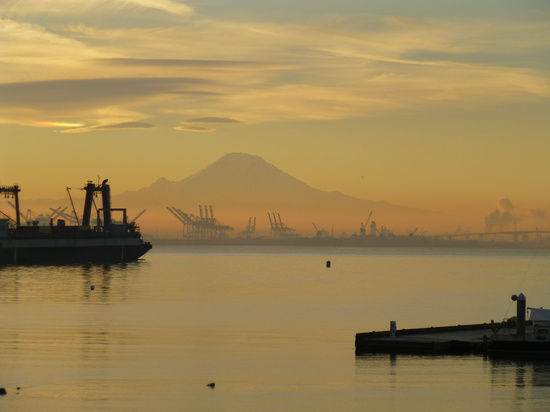 I think this was the best picture yet. Now I can tell myself it's alright to sleep in. The plan was to just walk to the end of the ally an take a few pictures of the sunrise with Claire. Then we decided to walk another block to look over the train yard. Then we decided to walk down through the train yard to take some pictures from the bottom.
Then
We decided to walk along the trail a ways. Next thing you know, we're a mile or so away from the house in our pajamas where I took this picture. This sunrise was too beautiful to just go back inside. After that we walked back and I made some hot apple cider and biscuits and gravy. Now we're all warmed up. I'm ready to take a nap now, but I should clean up the kitchen.
A fitting end to my week of sunrises:
I'm way too caffeinated for this hour. Sleep is going to be hard.
I think this week is going to be slow. I might get Wednesday off. I can dig that.
Ha ha, look at my kitty. She sleeps in a circle: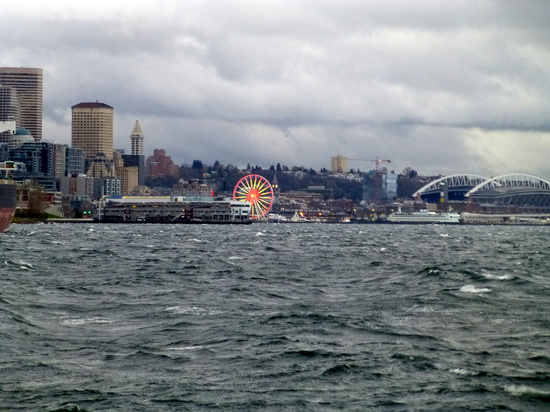 The lights have been flickering this evening. I located the lighter and candles just in case, but I think the wind has died down a bit.
Wow, I got a lot done today. I only ended up working an extra half hour, but it felt like longer. I had a bunch of orders going out and had to finish and decorate. Then after that, I needed to fill 400 eclairs. I didn't help that my right thumb is kind of out of commission. I dumbly grabbed the handle of the water bath that was over the back burner flame and basically branded my thumb. Note to self: when a piece of metal is over a flame, it is hot, and you should not grab it. For some reason all my brain was thinking was that the water bath should be over the flame, and not next to it, and I grabbed the thing to move it. Duuh! Not bad though, this is my first burn at Starlight, and this is already my second year here. At this point I already had a dozen burns at Fresh Flours, and god know how many at Three Girls. Most of my Fresh Flours burns were on my arm near my shoulder from walking into hot sheet pans high up on sheet racks. My all time best though was when I tried to pull a pound cake out of an oven without pulling out the rack, and I burned my arm on the bottom rack. My instinct was to pull my arm up away from the hot rack only to whack my arm into the rack above. Up down up down...ow! Ow!Ow!Ow! Oh yeah, pull my arm OUT of the oven! Never again. Now I ALWAYS pull the racks out of the oven rather than stick my arm into the oven...see I learn lots of important things in my day to day life about baking, like shit is hot in a bakery, and can burn you. Kindly I will not post a picture of this burn. Unless you beg me. NO NO NO you don't want to see it.
Wow, the wind picked up today. I rode my bike downtown after work today to meet up with Angela, and almost got blown off my bike a few times. I hung out by the water taking a bunch of pictures. It was hard, because the wind kept blowing me around, and I couldn't hold still long enough to focus and take a picture. This one took five tries.
Sundays like these are so relaxing. I'm not even putting that much effort in doing the laundry knowing I have tomorrow to finish. Claire and I did go out earlier to buy the Sunday paper. It ended up being another adventure. We walked around the industrial part of Fisherman's Terminal. It was very vacant. Here we are having fun with a very shiny trailer we came across. I couldn't convince Claire to move to a spot that was a little bit clearer. She kept wanting to get close to me. I titled this 'Thunder Thighs' for obvious reasons.
I didn't even bother getting dressed today. I'm still in my sweats, and I shall stay in my sweats.
I want to eat all the candy. ALL OF IT!


No, I'm not intoxicated. I'm not sure when I first heard the line about chopping wood and carrying water, I think it might have been when my dad was getting into Zen. He always had a bunch of books around the house about Zen. That line kind of stuck in my consciousness. I think I even cut the words "I chop wood" into the back of my hand once in high school. When my English teacher saw that, he laughed and gave me a hug. Yeah, I was a weird kid. Out of the blue last week, I looked at my horoscope in the news paper, and it had that line in there. What are the odds?

It's hard to describe what it (the phrase) means to me. I was thinking about how if life had set me up for something better, I might not have been so driven to stick to, and learn my trade. I might not have put in all the years of mixing dough and melting chocolate if I had a chance to make more money doing something less laborious. Even now, after being a baker for over ten year, I feel like I'm half way there to being a Master Baker, whatever that it, but that half way further than someone who hasn't followed my path. The rewards of life aren't just given to you. They can't be. It's the experience that teaches you. I heard some cheesy pop song yesterday where the young singer was begging to put to sleep or something until he could wake up older with all the knowledge that comes with age. I wanted to find him and whack him over his head. DUDE! It's the getting there that gives you the knowledge. You can't just get it without the effort. Learning something profound often requires you to change the way you understand yourself.

There's more to it than the end result, it's the process too. I chop wood. I carry water. I do it every day. I don't do it so that one day I'll be the best wood chopper. I do it because the wood needs to be chopped.
I changed my journal title to "I Chop Wood, And Carry Water" because I think I had a glimmer of Nirvana on my walk to the grocery store this evening. I also felt this profound love for everyone and every thing...I'm sure there's a pill out there that can fix this state of mind. Just think, if the Buddha had the right medication... also if van Gogh had a little prozac, maybe he wouldn't have cut off his ear. Why the left ear?
And this is the version I grew up listening to. Honestly I think Dylan's voice sounds beautiful in this version. I learned to play this song listening to this on my dad's record player
.
And to save space, the rest here are links to interesting versions I found:
Leadbelly
Jimi Hendrix
Frijid Pink
I found this a few places listed as "Pink Floyd" but no, it's Frijid Pink. I even found a video that has this version playing with the rainbow triangle picture in the background.
What were the
Beatles
on here? I wonder if I can buys some on The Ave?
An interesting South African disco version by
HOT R.S.
it's hot...
Geordie
a nice classic 70's rock version.
The Ventures!!!
The Ventures have a special place in my heart. I was watching them live at the opening of EMP at the Mural Amphitheater when I met "Vern the One Man Party" whom I dated for a year. He also introduced me to Jeremiah :)
lol
Bon Jovi
funny, at first I accidentally put this one down with the ladies.
The White Stripes
live. It's kind of cool that they covered this song, but meh.
Hah!
Duran Duran
did it too.
Muse
I haven't actually heard of these band, but it's an interesting version. Lots of loud guitar and weird digital sounds.
Woody Guthrie
He has a way of making things sound so much more upbeat.
Jerry Lawson & Talk of the Town
Finally! Something heavy metal
EverEve
and
Sentenced
.
Alan Price
I love this guy
Waylon Jennings
Five pages into my search I found
Jerry Garcia
The ladies:
Libby Holman
Joan Baez
(for
deliriums_fish
—
)
Of course
Dolly
covered it. It's definitely a 70's version.
Even
Sinead
did it.
and
Courtney Love
Like most of her songs, pretty boring.
Walls of Jericho
much better than Courtney if you want to hear a girl hard rock cover.
Jody Miller
I put this one in just because of her dress.
The odd balls:
7 foot tall Musical Tesla Coils
That's not a band name. It's really played by 7 foot tall Musical Tesla Coils.
Wow, I like this
Cambodian Space Project
Gary Glitter
not really anything quite like this.
Okay,
this guy
reminds me of my dad, but he doesn't put so much sugar in his coffee.
My dad and Pastor Rick Reynolds for Reference about 1992? The mullet phase...
(
pic under the cut...
Collapse
)
There's about 1,000 other versions of this song, but I have to do other crap at some point.
It's been a while since I did one of these. I'll start with the most famous, The Animals. The video is pretty fucking cheesy.I love it